In the event of storm damage, it is important to get a full property damage inspection before calling your insurance agent or insurance company. We will provide you with a full report detailing the total storm damage and an estimated cost to fully restore your property to its original condition. We have 30 years experience working with homeowners and their insurance carrier to make sure their claim is settled properly. Request a free estimate
A damaged roof can become the cause of personal injuries, damage to the structure and possessions and possible property value devaluation, so it's important to inspect your roof regularly. A professional inspection of roofing and related areas is the only way to determine the exact condition of your roof. This is essential in deciding whether or not you need repairs. Regular roof inspection is a small investment that can save you the huge expense of serious repairs.
Some signs that you should have your roof inspected:
Missing or damaged shingles
Buckling
Damaged flashing
Algae or moss growth
Active leaks or internal stains
Damaged or damp walls
Deteriorated Brick
Contact us to schedule inspection
Your roof is one of the most important and crucial parts of your home. Maintaining your roof helps keep the elements out and you warm and dry. Small damage can allow water to seep in and begin rotting the wood sheathing beneath. Even small damage or leaks could result in eventually needing a new roof. There are many repairs your roof might require, and it is very important to watch for any signs and have repairs scheduled and completed as quickly as possible. Request a free estimate
Hear from our Customers
As a builder, attention to details is something I look for and Lew McCoy and Suburban Roofing sure did deliver on our office roof. They did an great job and the clean up was outstanding. We highly recommend him and his crew! Mike Dyal
Dyal Custom Homes
Hear from our Customers
My experience with Suburban Roofing exceeded my expectations! Working with Lew McCoy was a pleasure! He clearly explained everything from the beginning to the end. The installers were on time, efficient, and courteous. I've already received many compliments on the color! Lew was available for any questions I had and made sure the work was done to my satisfaction. I am happy to recommend Lew and Suburban Roofing to anyone. – Karen Kiner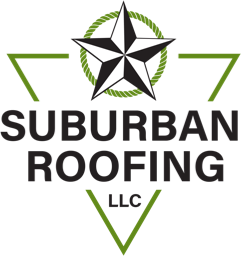 Contact us for a FREE estimate!
Are you needing your roof repaired, replaced or inspected? We'd be happy to send one of our pro team out to give you a FREE estimate! Just click the green button to the right and we'll get back to you as soon as we can! Request a Free Estimate